About us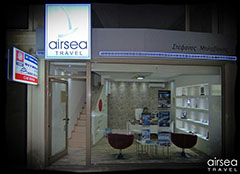 Click images to enlarge
AirSea Travel holds many years of experience in travel services with Stefanos Blavakis's signature.
Our
Services
Tickets
Air and Boat tickets to all destinations.
Hotel bookings
Hotel bookings for personal and business travels.
Holidays
Vacation packages to famous Greek islands.
Excursions in Crete
Organized excursions in all Crete Landmarks and Monuments.
Rentals
Cars and Sailing boats.